---
CLEANERS
The various cleaning products include general purpose cleaners as well as products for the cleaning of specific parts and will assist in the complete cleaning of the bike. We recommend to use a sponge and a brush for the less accessible places. Allow some time for the foam layer to work on the bike.
Rinse thoroughly with plenty of water.
In the instruction movie the Lotto Soudal technicians will show you how to clean your bike with the cleaning products.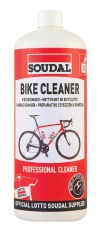 BIKE CLEANER 1L
Professional detergent for thoroughly cleaning bicycles. Perfect for quickly removing mud and all types of dirt. Suitable for all surfaces (matt, painted and unpainted surfaces) and bicycle tyres.
Add a hefty squirt of Bike cleaner to lukewarm water (ratio of about 1:10). Apply the soapy water to the entire bike. It is best to use a sponge and a brush for the less accessible places.
CHAIN CLEANER 1L
Professional degreaser and cleaner for removing all kinds of dirt from the chain and the front and rear derailleurs. Proper and regular maintenance of the chain and derailleurs prevents wear and guarantees a longer lifespan of parts.
After spraying cleaner on the soiled chain, allow the product some time to work. A brush can be used to rub the product into the gaps in the chain. Thoroughly hose off the chain and derailleurs with plenty of water. Make sure you always re-think the chain and gear drive with Soudal Dry, Wet weather or All weather lubricant.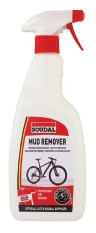 MUD REMOVER 1L
Ready-to-use professional and powerful cleaner for efficient removal of stubborn dirt. Suitable for all surfaces, tyres, saddle, steering, etc.
Spray the cleaner on the heavily-soiled parts. Allow the product to work for several minutes. Stubborn dirt or mud van be removed with a sponge or brush. Thoroughly hose off with plenty of water and wipe or blow dry.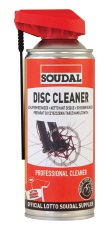 DISC CLEANER 400ML
Effective cleaner for removing , oil, grease, grit and grime on disc brakes and other moving metal surfaces. This significantly improves braking performance. The disc cleaner leaves no residue.
Shake the container well before use. Apply generously when cleaning and them wipe dry. The special nozzle allows you to clean hard-to-reach areas.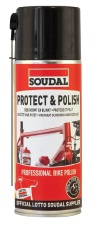 PROTECT & POLISH 400ML
Professional polish to put a shine on the bicycle frame. Also offers protection because it is dirt and moisture repellent. Suitable for both aluminium and carbon substrates.
Shake well before use. Spray on the entire bike frame after completely cleaning the bike. Now polish with dry cloth.